One of the films I was asked to photograph for the Santa Barbara International Film Festival was, Amy Berg's "West of Memphis".  I quickly realized two things… 1) This was much more than a film… and 2) I was not plugged into current events when I was in high school!
Here is a summary of some facts…
In 1993, three 8 year old boys (Christopher Byers, Steven Branch and Michael Moore) were horribly murdered in West Memphis, Arkansas.
In 1994, three teenagers (Damien Echols, Jason Baldwin and Jessie Misskelley) were convicted for the murders.
Baldwin and Misskelley were sentenced to life in prison and Echols was put on death row and was in solitary confinement for most of his sentence.
The public, celebrities and media uncover details of the case showing incredibly sloppy police work, holes in the evidence and a number of irregularities.
Peter Jackson (director/producer) anonymously began helping the defense with funding in 2006.  Other recognizable names like Natalie Maines, Eddie Vedder, and Johnny Depp helped lend their support and kept the story in the news.
In 2008, Amy Berg (background in investigative journalism) began working on this documentary.
August 2011, after over 18 years in prison Damien Echols, Jason Baldwin and Jessie Misskelley were released.
Here is an image of the powerful Q&A just after the movie was screened:

Mark Byers (father of murder victim Chistopher Byers), Holly Ballard, Jason Baldwin, Moderator Peter Rainer, Director Amy Berg, Damien Echols and Lorri Davis
The case for the three boys that appeared to be wrongly convicted was so convincing that even Mark Byers (father of murder victim Christopher) joined the defense team!
The movie is two and a half hours long, and there are other films and books so the research is endless, but here are the 3 most interesting facts for me:
At the scene where the victims were found, the DNA found was that of the victims and from ANOTHER source, NOT the 3 that were thrown in jail
In the rope used on the victims, DNA of the father in law (Terry Hobbs) of one of the victims (Steven Branch) was found
The night of the murder, police were called to a restaurant for a man covered in blood.  The police did an interview through the drive-through window.  The next day they came back and collected blood samples that they ended up losing.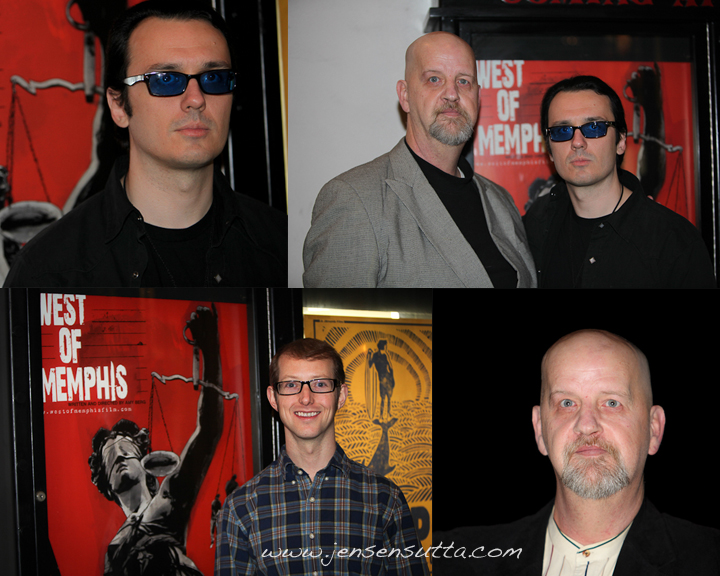 While the Memphis 3 were released from prison, they had to enter "Alford Pleas", meaning they could say out loud that they were innocent, however, the plea made them agree to submit a plea of guilty.  Really a strange deal that seems to aim at preventing a lawsuit.  Additionally, presumably the real killer is still loose.  Jason Baldwin is currently learning how to drive, but plans to pursue a career in law!  Damien Echols, after TEN YEARS of solitary confinement is adjusting to being around people again.  The case, and the story is not over.
I also want to do my part to give credit where credit is due.  I think it's neat when "celebrities" use the attention they get for good.  Peter Jackson, Johnny Depp, Natalie Maines and others bring with them media attention (and money) which in no doubt helped the progression of this story.  Also in attendance for this screening was Ellen Page (Juno):