Thanks to the Clare Boothe Luce Policy Institute, I was fortunate enough to be hired to photograph at this years Conservative Political Action Conference (CPAC) in Washington, D.C.  Almost all of the big wigs from the Republican Party participated in some capacity, including all of the front runners in the Presidential Race (except Ron Paul), as well as several thousand supporters and college students.
The first candidate I photographed was former Senator from Pennsylvania, Rick Santorum.  Fresh from his win in the Colorado primary, there was a lot of excitement in the room for him.  It was difficult to get a nice clean photograph of him because his wife Karen and six out of their seven children were on stage with him!  It was a nice family moment, but hard for photography (as illustrated below with his wife behind his shoulder with her eyes closed)!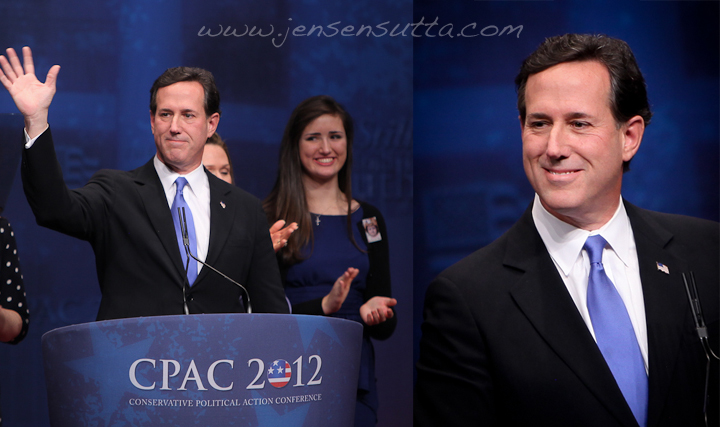 Currently considered the front-runner, former Governor of Massachusetts, Mitt Romney had a huge following.  In addition to his followers, the buzz created from the Secret Service detail was exciting to see.  I imagine you get used to it if you live in D.C., but to me, seeing the motorcades and bodyguards was thrilling!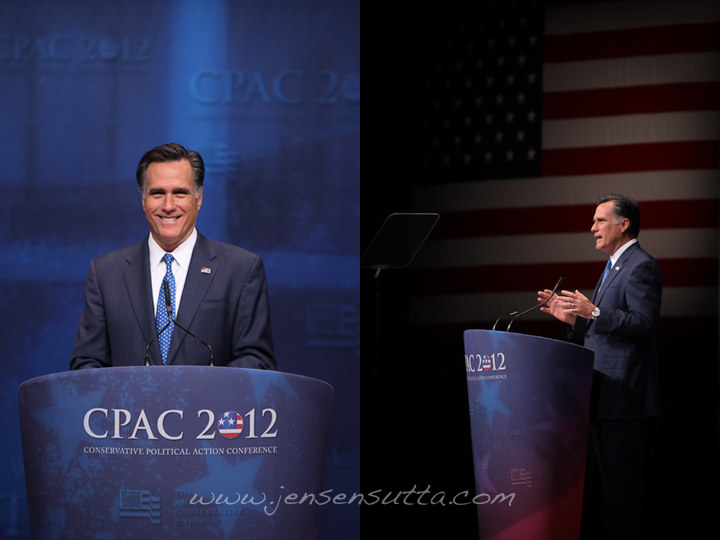 I wish I would have found out how many people fit in the main ballroom where the keynote speakers appeared.  It was huge!  The first couple of times protesters started screaming, I have to admit, I jumped!  But, by the third day both me, and the audience were used to it.  I guess that's part of politics!  Here's an image of the inside of the ballroom (with cameras from CBS and C-SPAN, and a protestor being escorted out on the right side).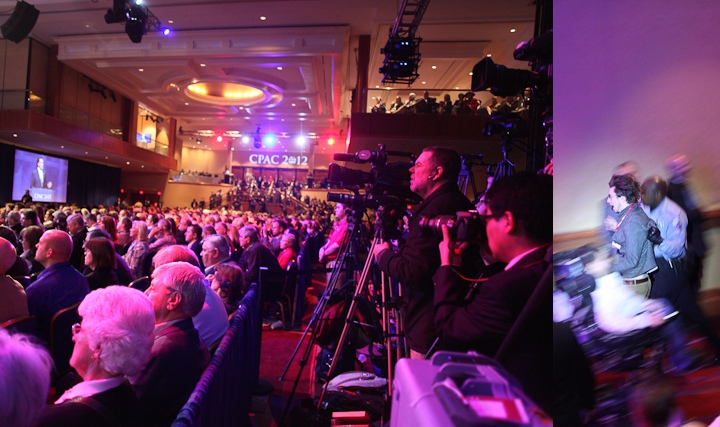 The schedule didn't work out for me to photograph Newt Gingrich, but I was able to photograph Herman Cain and the always outspoken Ann Coulter.  I've photographed Ann Coulter a few times in the past, so I'm going to choose to pretend that she remembered me, and that's why she stared at me a few times throughout her speech!

One of my favorite folks to photograph is S.E. Cupp.  It helps that she is easy to photograph, but she's also so much fun, witty, sarcastic and hilarious!  In the picture on the left, she started the interview with, "What on earth are you doing here Chuck Woolery?" and ended with how she'll be back in 'two and two!"  I never did hear Chuck Woolery's answer to the question…

The reason I was hired to photograph at CPAC was to document a luncheon featuring Sarah Palin.  I had photographed her once before on a private tour of Ronald Reagan's Ranch, Rancho del Cielo.  It was really flattering because an image from that day was featured on Palin's personal Facebook page last week, and was all over at CPAC.  I was even told from a reliable source that her husband (Todd) said it was his favorite picture of her!! When one college student found out I was the photographer, she asked for me to autograph the poster!  It was so flattering!  In the picture below, some media outlet from the U.K. was taking footage of the poster.  Thanks Young America's Foundation for such a neat opportunity!

Here are a few of my favorites, a couple from the private lunch, and a couple when she spoke afterwards on the main stage:

What a neat event to photograph!  My next goal is to get it set in stone to photograph both the Democratic National Convention and the Republican National Convention.  If anyone reads this, appreciated the photos, and knows anyone looking to hire a photographer for the Conventions, please let me know!  And lastly, my friend Fecteau, took an image of the closing speaker at CPAC.  Here's an image of him addressing crowd (ie – me enjoying my job!):