As the 2013 wedding season begins, I can without question say it started on a bright note!  Tara and David had one FANTASTIC wedding!  The details, decor and suprises were off the charts!  Let's start with my first few pictures…a couple of details and a few portraits just after Tara put her gorgeous Vera Wang dress on: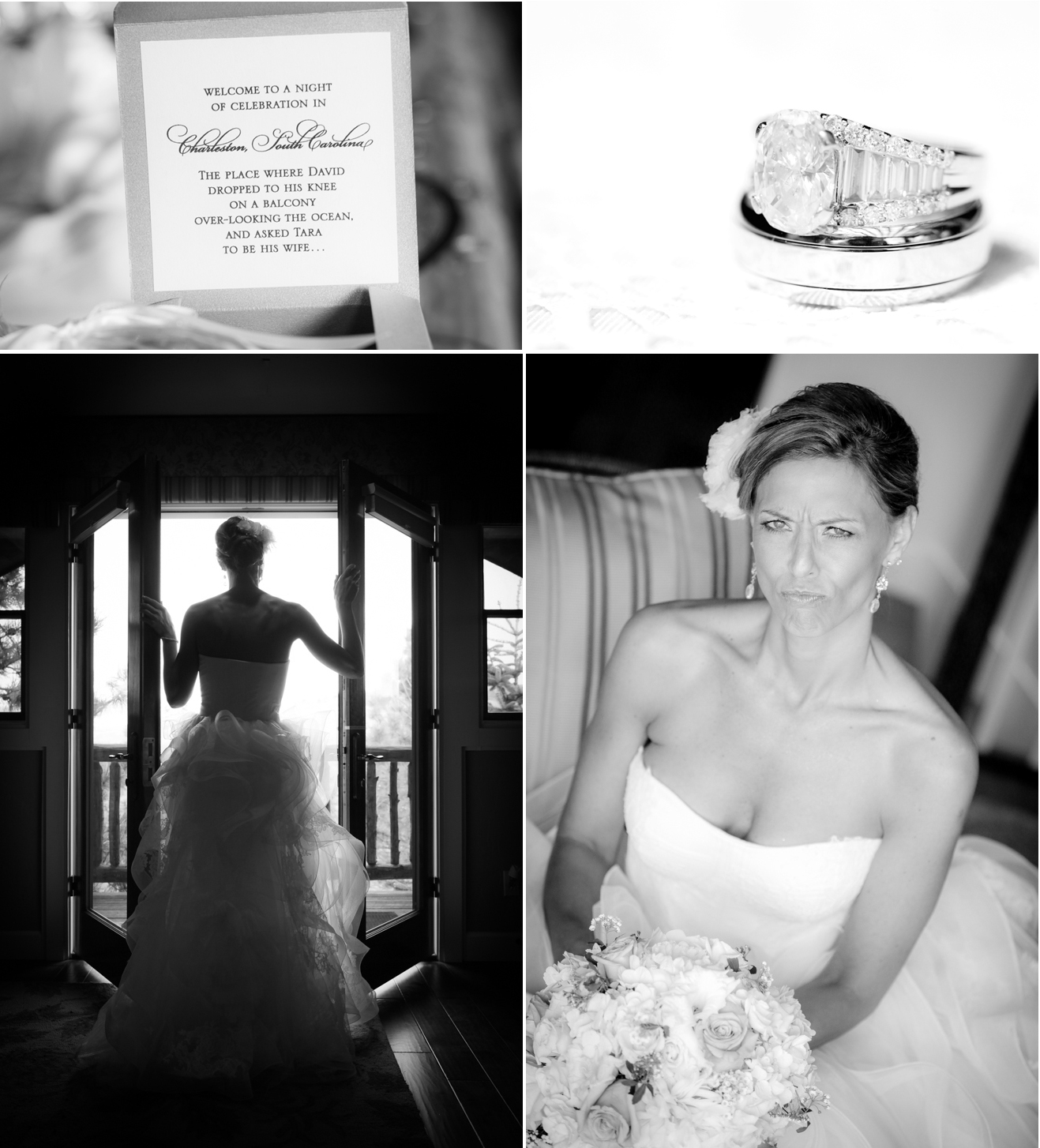 About this time, guests were transported from their cars to the ceremony site on a horse drawn carriage!  They arrived to find a stocked bar, and themed men's and women's corners: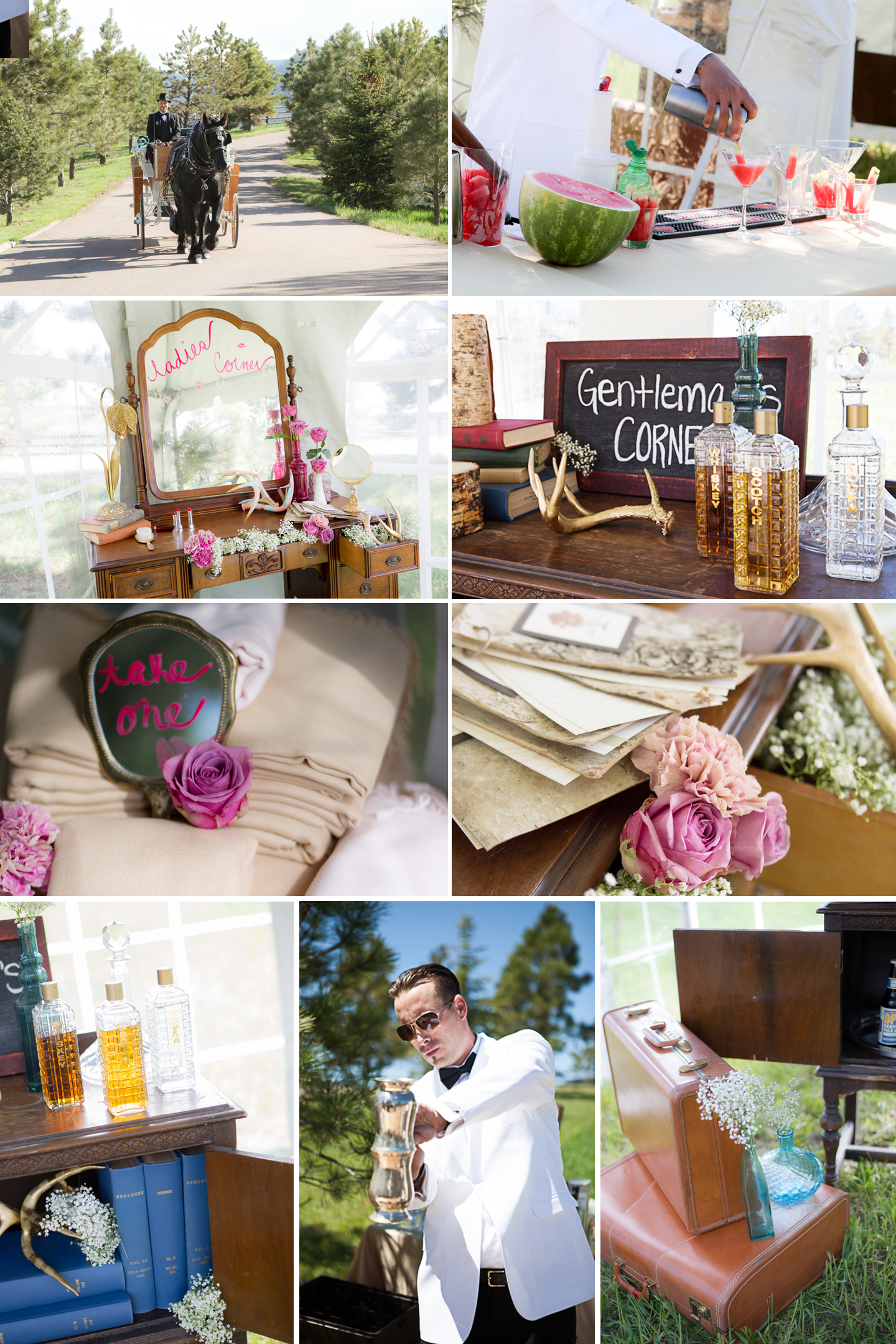 It was the first unveiling at Spruce Mountain Ranch of the new ceremony site, Grace's Chapel, named for Tara's daughter.  An incredible backdrop for the ceremony was a poem David had recited to Tara that hung from the tree (tr):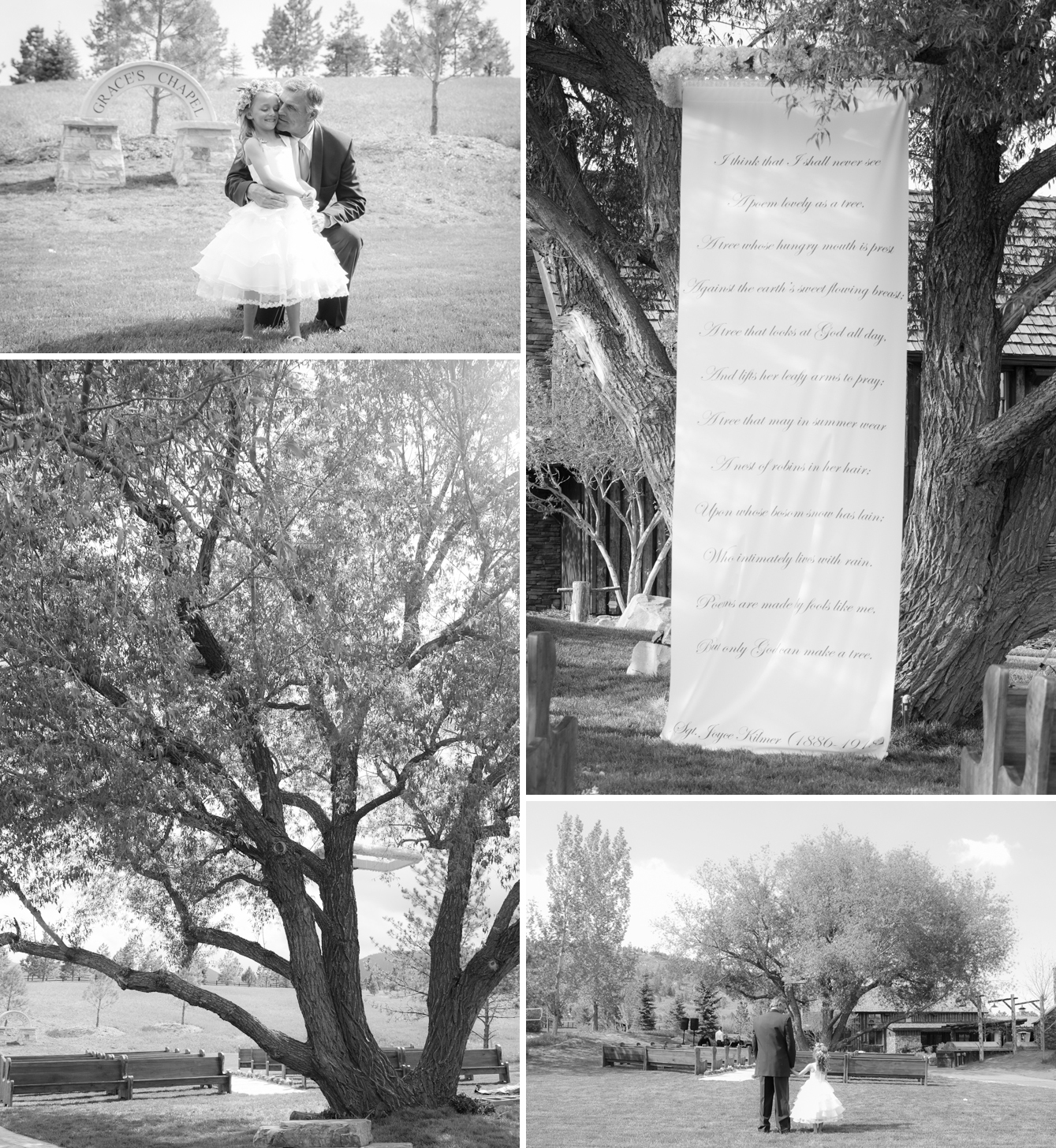 The ceremony began with a bagpiper and Tara arriving in a Rolls Royce…and ended with singers who were posing as guests that stood up and sang a cappella at the first kiss!

Here are a couple of my favorite moments with Tara and David before heading over to catch the cocktail hour:

David proposed in Charleston, South Carolina, so everything from the decor, to the mint julep drinks to the menu had a Southern spin!

Then it was off to the reception and the gorgeously transformed Albert's Lodge:

I'm having a tough time narrowing down which images to share!  THAT'S how gorgeous the evening was!

One of the more unique aspects of the reception (aside from the incredible flowers, linens, spanish moss…etc was a layout that surrounded a grand piano!

The pianist was a fantastic entertainer…as were the male and female singers, the A Cappella quartet, and the choreographed first dance was fun too…BUT by far, my favorite moment was when David serenaded Tara!!

Naturally, even the 'send-off' was incredible!  There was the exit in the Rolls Royce, delicious cinnamon rolls ("to get your morning roll'n", and 'firely Chinese flying lanterns', there were these crazy, dangerous, flying paper balls of fire.  They photographed well (I thought), and looked pretty in person, but holy toledo, they were FLYING PAPER BALLS OF FIRE!

CONGRATULATIONS Tara and David!!!!  Thank you so much for allowing me to capture these moments for you!!
There were a huge number of folks that helped, sponsored, contributed, worked…etc:
All Around Health (Personal Trainer), All Digital Studios (videography), Anna Be Bridal (dress), Anna's Custom Pews (wedding pews), Artistry Events & Design (event design), Ashley Nicole Events (event planner), Avalon Cakes (wedding cake), Blue Eyes Consulting (business marketing and consulting), Linen Hero (linens), Chairished Vintage Chair Rentals (Chair Rentals), Cloud 9 Weddings and Papers (wedding planning and invitations), Colorado Bagpiper, DDG Classic Limousine, Event Rents (party rentals), Indigo Sky (event decor), Jade Darrough (hair stylist), Magnifica Bella (make-up), Peak Beverage (drinks), Dan Dobbins (pianist), Pink Ink Paper and Calligraphy, Sarah Viera Events (event planner), Splendor for Your Guests (accessories), Starkey Productions (entertainment), Mansurovs Photography (second photographers) Tasha Rae Designs (invitations and stationary), Inverness Hotel, Elizabeth Marberry (dance coach),  Tony Rosacci's Fine Catering (delicious food), and Wedding Treasures